Fronius Inverter Review Australia 2019
Fronius is a family owned business based in Pettenbach, Austria and run since 2011 by Elisabeth, granddaughter of founder Gunter Fronius who started this battey/glass and welding firm at the end of WW2 and lived to the very ripe old age age of 107. Today Fronius employ 3,700 people and all their inverters are fully designed and made in Austria.
The most popular Fronius inverters we supply are the single phase 5kW "Primo" and the three phase 5kW "Symo" but there are plenty of both smaller and much larger models in their ranges.
The 5kW Primo has two versions now, one, the slightly more expensive 'SC' that can connect parallel strings, useful for three or even four roof orientations, and the 'International' which can't.
The 5kW Symo also comes in two versions. The regular Symo and the Symo Hybrid.
The Symo Hybrid can DC connect to LG and BYD batteries, and at the moment, it's the only one in the range that can. New hybrid models of Fronius inverters have been 'demonstrated' at trade shows around the World now for the past two years, but so far, no actual hybrids have arrived for sale or appeared on the CEC approved inverter list.
Our view about Fronius has changed quite a bit over the past two years, and it's not a good change. There was a time up to about 2017, when spending a lot of extra money made sense. SMA had lost their minds and gone off to Chinese manufacturing, the Chinese manufacturers on the whole (there are a few exceptions), were turning out sub-standard products. Fronius was the safe and sensible choice, especially as no-one had even really thought of connecting batteries to an inverter.
With Fronius Primo and Symo you got what appeared to be a more reliable product (who knows though, as the current models have only been out five years), a more sophisticated one too with really good programming options and WIFI reporting, nice touches like a built in DC isolator, and more recently smart meters that allow reporting on consumption and remote firmware upgrades rather than driving out to site with a USB stick. Top that with a 5+5 warranty and it was something of a no brainer for those with the ability to pay the extra cost.
Now, frankly, it looks very much like that extra money is a rip off. It's now looking more like Fronius aren't normal and everything else is cheap, more that everything else is normal and Fronius is massively over-priced.
Take Huawei, World No.1 (20% share compared to Fronius 3%) and recent winner at Intersolar 2019 of 'Best Inverter'. It's got absolutely EVERYTHING that Fronius has got in the list above, same warranty, same built in isolator, remote programming, great WIFI and reporting, smart meter with consumption level reporting and it's $400-$500 cheaper. Oh wait, it's also a plug and play battery ready DC coupling hybrid inverter for both their single AND three phase models.
So, we would have thought the obvious thing for Fronius to do, faced with such a mighty competitor like giant Huawei and their very clearly superior inverter is either to release their own hybrids or drop their price by $500. They've done neither.
It's not just Huawei. Cheaper brands like Sungrow now offer the same functionality and warranty as the Fronius inverters including smart meters and consumption reporting and they are a full $1,000 less, and they are passively cooled too. (Fronius has old fashioned fans and is noisy).
So, until this review gets updated with exciting news about Fronius product releases or price cuts, we'll say the obvious. If you want Fronius, then we will happilly supply and install them, but if you want a better inverter in every way, for less money, then buy Huawei.

Pictured below the unicorn, Fronius Primo Hybrid as displayed at All Energy Expo in Melbourne in late 2018. Where is it? The new Symo hybrid looks the same. The grill is not to plug in your IPhone and play your favourite tunes, it's to expel heat.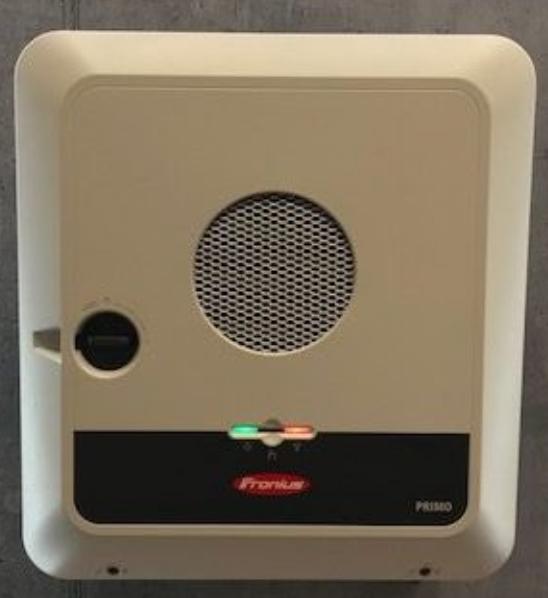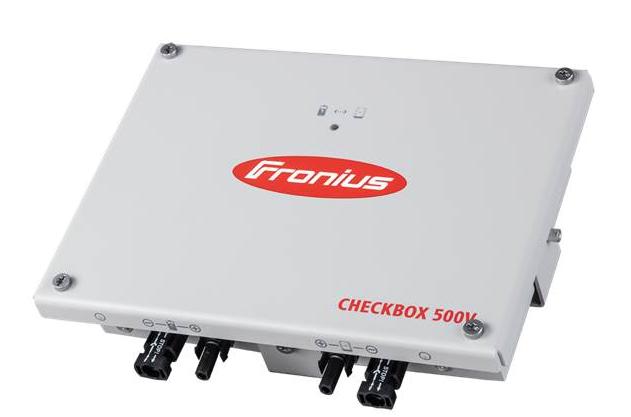 Fronius 3 phase smart meter (left) and single phase (right).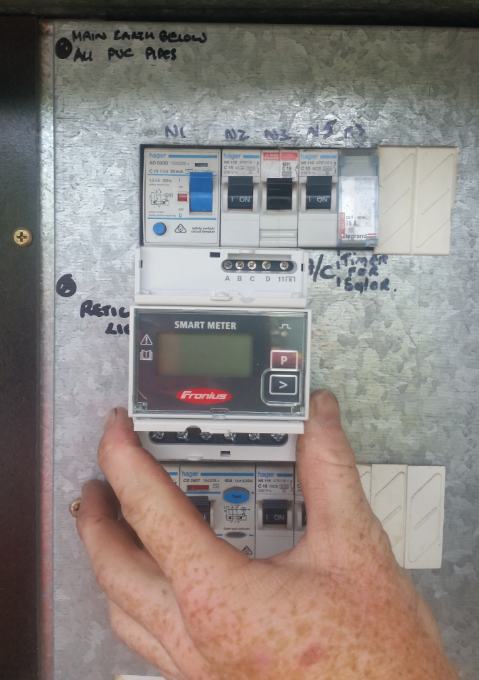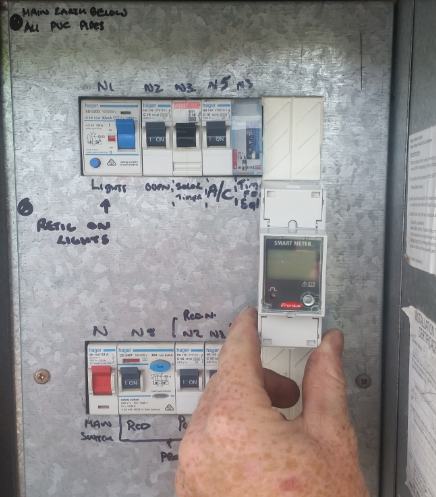 Setting up WIFI on Fronius inverters
Fronius WIFI Setup for Android or Apple Smartphones
Download and install the Fronius Solar.web live app for iPhone or Android
Open the app, and press the red icon in the bottom right of the screen and then click
Setup my Fronius Inverter. Then select Grid Connected Inverter.
Go to your Fronius inverter and press the Menu button (2nd button from the right)
Scroll right until you get to the Setup menu and then press Enter (furthest right button)
Scroll down to WIFI Access Point and press Enter and then Enter again to Activate WIFI
On your smartphone go to your WIFI networks list and connect to Fronius.
The temporary password is 12345678.
In the Solar Web app, click SolarWeb Wizard and enter the details
Feed in tariff (what you get paid for surplus power sent back into the grid) in 2016 is 0.07135,
and Grid supply tariff (what you pay Synergy is 0.2647. You will need to update these prices every time Synergy increase their prices. When you have entered the date time and time zone, click Forward
Give your system any name you like and then enter the PV Power in Watts (e.g. if you havea 5.3kW of solar panels then enter 5300) , and then press Forward and then Accept. Select your home WIFI from the list and then enter your home WIFI password and then click Connect. Exit the App and re-connect to your home WIFI.
Test that you can access the Internet, and then re-open the Fronius Solar Web app. I will attempt to connect to the network, and can take a while. When it has connected, click Forward, and then enter a new password for your inverter, replacing the default 12345678, and click Finish.
The app will take you to the solarweb.com website where you need to register for a new account and then fill in all the details requested. You will be emailed a confirmation link to verify your email address for alerts. Respond to this (check your junk folder if you don't see an email, and if it has gone to junk allow all future emails from solarweb.com to be accepted).
Re-open the Solarweb app and click on the red icon in the bottom right again, and click Login to SolarWeb
Enter the email address and password that you used to register your new account and click Log In
It takes about 15 minutes.