SolarEdge inverter- Updated November 2019
SolarEdge are headquartered in Israel and their products are manufactured in China.
The SolarEdge design is based around a central inverter that is constantly adjusting the current from the string of panels to achieve a fixed 350V.
Optimisers (pictured above) attach to every panel to carry out the inverter demands.
One advantage of this design is that you never get the situation where one panel on a string is bringing down the ouput of all the other panels as is the case with a non-optimised string inverter. It also means that you can have panels facing every which way rather than the typical maximum of two orientations. A disadvantage is that you need quite a few panels on each string to provide enough electricity to get the voltage up to 350V.
Too many false alarms sees the end of a panel level reporting, maybe?
With optimisers on every panel you have the ability to see what each panel has produced over time since the installation. It's called 'Panel Level' monitoring. Some people use this to check whether a bird has pooped on a panel and then race up on the roof to clean it off, and some people ring up to insist there is something wrong because one panel is making less power than the others. If you ever wondered why it's so slow to get a tech support response from SolarEdge, it's probably because they are all wasting their time following up on these false alarms. This feature may be withdrawn from consumers and given only to installers as a result.
Connecting a battery (DC Coupling)
The SolarEdge HD Wave isn't a hybrid inverter, but by adding the 'StorEdge interface' and the smart meter (they call it a Modbus meter) as shown in this Youtube Video you can turn it into one. The 'Storedge interface', (previously known as SESTI S4) costs an extra $850 and the smart meter and CT clamp $250. Of course, if you don't like the DC Coupling option, you can always 'AC Couple' a Powerwall 2 or something else after the inverter has done all it's DC to AC conversion. We love hybrids for this extra future-proof flexibility over a regular inverter that can't DC Couple a battery ever, so it's an AC Coupled extra inverter and battery only for them.
What does SolarEdge cost?
The standard 5kW HD Wave inverter is $1,540
You want WIFI ?, add on $105
You want consumption reporting ? , add on $250
You want the StorEdge battery interface? Add on $850
Oh, and you need an $80 P370 optimiser on every panel, so for 20 panels that's $1,600
So, all up, a SolarEdge 5kW single phase hybrid with WIFI and smart meter is $4,345.
Is that good value?
By comparison, fierce rivals Huawei, single phase 5kW inverter is $1,600 and their smart meter $220, WIFI and hybrid capability is built-in as standard, so $1,820 all up.
However, I have not included Huawei optimisers in that price because with Huawei they are entirely optional. If you have three panels that get a bit of shade, buy three Huawei optimisers at $90 each. If you want most of your panels facing North and West but want four of them facing East, then buy four Huawei optimisers. However, if you want the whole 20 panels fitted with optimisers and get panel level reporting, then that's $3,620 all up.
Warranty
The SolarEdge inverter has a very good 12 year parts and labour warranty and their optimisers 25 years. This compares to Huawei at 10 years parts and labour for the inverter and also 25 years for optimisers. The industry standard for other inverters is 5 years parts and labour with an additional 5 years parts only.
EPS
Emergency Power Supply, or 'backup' as it is usually called is not available with SolarEdge HD Wave or for that matter with Huawei either. It may arrive sooner or later for both of these brands but in many ways it's a bit of an over-hyped up feature anyway. It's not like the EPS can power your whole house during mains power failure, just a small number of essential loads wired up to a single circuit.
Electric Vehicle charger inverter
There's a new SolarEdge inverter coming very soon to Australia late 2019/early 2020, a variant of the existing HD Wave, that has an integrated EV charger so you can charge your car faster by combining the solar power and the grid power. Nice. No pricing available for this new model and car charger yet but we are led to believe it is a 7kW single phase inverter which if true, renders it useless to us in WA where are limited to 5kW on single phase. We shall see.
Three phase SolarEdge
The HD Wave inverters are single phase, but that's fine for those with 3 phase power, except in WA. Over East they can connect a 5kW single phase inverter, even 10kW sometimes to three phase, but in WA we can't. As a result if you want a 3 phase SolarEdge installation in WA you have to either install 2 x 2.5kW single phase HD Waves, or else the old 3 phase model that can never be turned into a hybrid.
2 x 2.5kW HD Waves costs $2,530 or 1 x 5kW three phase costs $1,800
By contrast the fully hybrid Huawei three phase 5kW inverter is $1,900.
Reliability
We fell in love with SolarEdge when they first came out, but the price put so many people off that they quickly became very much a second-string product for us. Then Huawei came out and we think they are better quality in almost every way. It's the sort of product that some companies run with and do nothing else, but we never saw it like that. It was always a product ideal for dealing with shade or multiple roof orientations, so we've probably installed less than 30 systems, and therefore we can't be considered any sort of an expert on them. MC Electrical in Queensland apparently installed about 150 systems and had a heap of problems and their review about SolarEdge reliability has been attacked by SolarEdge, their other resellers and even loyal and happy customers.
SolarEdge photo gallery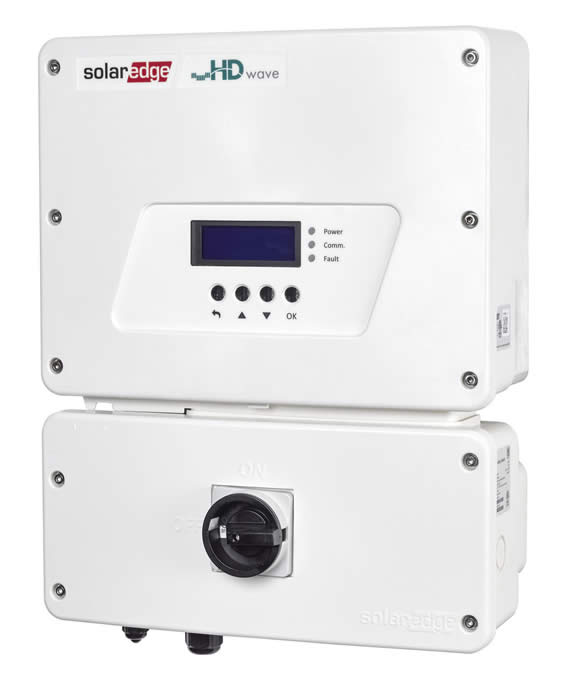 The HD Wave inverter (5kW single phase) is the box on top, and the DC isolator is the box underneath. Having an integrated DC isolator is all very nice but it does add a huge amount of real estate.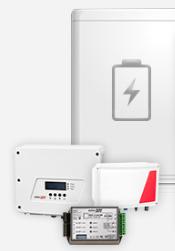 The SESTI battery interface is the box with the red stripe.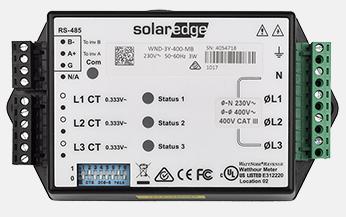 SolarEdge Smart Meter (Modbus) can be used on both single and 3 phase
just add 1 x CT clamp for single phase, or 3 x CTs for 3 phase.
You need this for reporting on your home power consumption and when you
connect the battery.