LonGi solar panel review - Updated July 2020
Nice looking panel !!

The LonGi Hi-MO X panel (350W) has overlapping cells so you can't see the backsheet. It makes it look nicer than a regular panel for sure, but is it really as good looking as the one in the picture above??
Here's a picture we took in the warehouse.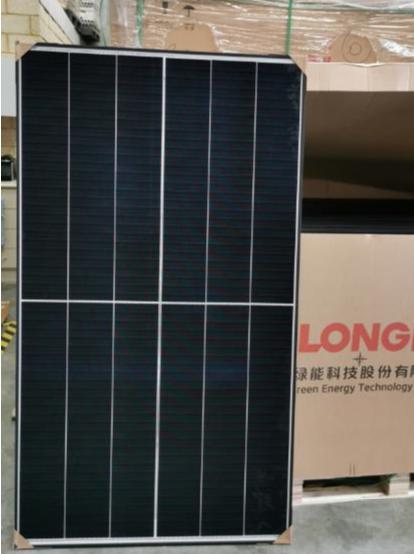 Rather confusingly the latest LonGi 370W panel does not have overlapping cells and is a 'normal' half cell panel even though it has the same Hi-MO brand name.
In 2019 LonGi overtook JinKo as the largest manufacturer of solar panels with production of a bit over 13 Gigawatts a year. That's 13 BILLION Watts. As their latest panel is 350 Watts, if I divide one into the other I get 37 million panels. Can that really be correct? Longi can make 37 million solar panels a year. Wow!
Our experience with Longi panels has been excellent. No faults at all, lower than average cell degredation losses (LID). We were an early adopter of LonGi panels in Australia. We were singing their praises for years, but suddenly, now everyone loves them too.