Goodwe Inverters
Goodwe inverters caught the attention of most solar companies in Australia
when German Photon magazine awarded them a AA rating in their strict testing,
and ranked them 2nd in the residential inverter classification and Top 5 in commercial.
Even the solar trolls on Whirlpool who relentlessly mock anything Chinese found it hard
to say anything bad about this brand.
The comprehensive range of products from Goodwe is frankly unrivalled as shown in the images above.
However, let's simplify the list of products down to what most people are really interested in.
5kW inverters.
The DNS 5kW inverter is their standard single phase model. Sells for $1,200, it has WIFI included and a 10 year defect warranty. It's been around now for five years or so, which is about the time it is due an overhaul.
And overhaul they just did with the new MS inverters.

The MS is a 3 x MPPT inverter which means that it allows you to install panels on 3 different orientations (e.g. North, West and East) without the need to fit optimisers. This is a much awaited and unique function for a 5kW residential inverter. The 5kW MS sells for $1,535 and the 10kW MS sells for $2,100. Whilst we in WA aren't allowed to install the 10kW version, I can just imagine the East Coast areas where 10kW on single phase is allowed, getting pretty enthusiastic for a 10kW, 3 x MPPT inverter for $2,100.

Congratulations Goodwe. This inverter fills an important hole in the market.
The 3 phase LDT 5kW Goodwe inverter is also getting on a bit, but it does the job well and at $1,600 is fair value for money. A replacement model (SDT) is coming soon, probably at the same price.
Goodwe have built their reputation on all inclusive battery inverters. The 5kW single phase EM and ES models sell for $2,200 and $2,750 respectively which may sound a lot at first glance compared to Huawei, Growatt, Sungrow etc, but Goodwe include the smart meter AND the emergency backup function as standard which definitely levels the playing field.

Both of these models connect to low voltage batteries, even lead acid and both can work in off-grid mode where the battery is re-charged from the solar panels even when the grid is down. The main attraction of Goodwe for a lot of people is the flexibility of battery choice and the excellent back-up function. Very fast switch-over from grid loss to battery supply. It's almost a UPS.
The new EH 5kW single phase inverter is now out to compliment the range with a high voltage battery option (BYD at the moment, with others being approved in due course). It sells for $2,520 if pre-configured as a hybrid, but Goodwe originally said they wanted to offer it 'battery software crippled' with a much lower price tag up-front, but not able to connect a battery until you purchase an unlock code. I guess that makes sense, but I can see problems looming from sales reps who don't fully disclose the fact that whilst it IS a battery inverter, you can't actually use a battery until you have spent $500 or whatever the unlock code costs. Like the ES and EM, the EH comes with the smart meter and backup function as standard.
(If you are wondering what 'back-up' is then read this PDF).
The ET model is a 5kW 3 phase battery inverter for $3,300. Again, smart meter and back-up included. Works with BYD and LG Chem high voltage batteries. Compare that to Huawei's 3 phase M1 inverter at $2,100, add the $330 three phase smart meter and $500 back up and it's $2,930. ET has off-grid mode, Huawei currently don't. For many people, that would justify the extra $370.
Goodwe also have a range of AC coupled battery inverters. These are for people who already have solar and want to connect a battery. Their existing inverter can't do it, so you buy a second inverter and then connect the battery to that. It's not proven to be a big seller, mostly because of the extra cost of a second inverter, but the range is there if you want it. Most people will get better value by simply replacing their existing inverter with one of Goodwe's (or Huawei, Growatt etc) battery hybrid inverters which often allow you to further oversize your solar with more Government discounted panels once the battery is plugged in.
My experience with Goodwe.
Their current standard 5kW (DNS) single phase and three phase (LDT) have performed very well for many years and are good value for money. There are other brands now that probably have an edge on Goodwe at this basic level. The 3 x MPPT new Goodwe inverter is fantastic news and whilst a bit more expensive, is well worth it for the many people who want to spread their power production evenly across the day with West, North and East facing panels.
If you want a battery inverter, then the EM is a bit under powered, but the ES and the new EH are really flexible single phase models as is the ET three phase. The price does look high, but the smart meter (worth $200 and the back-up built in worth $500) make a $2,500 inverter really an $1,800 one compared to Huawei, Sungrow, Delta and Growatt who charge about $700 for those two extras. That, coupled with their off-grid mode, makes Goodwe a very good choice for people who want a really comprehensive battery set-up.
Datasheets, brochures are all on the Goodwe website
Our experience with Goodwe reliability has been average. By that I mean we have had the predictable number of failures (about 1 failure in 150 installed each year). Goodwe support is very efficient. In fact, the support from (almost) all of the Chinese inverter companies is noticeably better than European based firms. If you get a faulty Goodwe, they generally send us a brand new replacement within a few days. They then tell us to throw away the faulty unit, so whilst wasteful, it means that warranty replacements should remain as new inverters, not refurbished ones, as they don't appear to want to ship and fix duds. Maybe that's just a WA thing because we are more expensive to ship to from the East where all the spares are? Long may it last.

Goodwe Australia support 0393240559 or email mike.zhang@goodwe.com

Goodwe WIFI Setup Instructions
Goodwe WiFi
The level of data available on the free WiFi feature of Goodwe inverters is good. You can view the data on a web browser or via their SmartPhone App (EziViewer). Here are some screen shots of some of what you get. (You get a lot more information if you have batteries connected).
1. This is a chart of the power produced over the day by a 3kW system in Perth on a mostly sunny day in May (see how it drops off at 12.30pm when some clouds came over).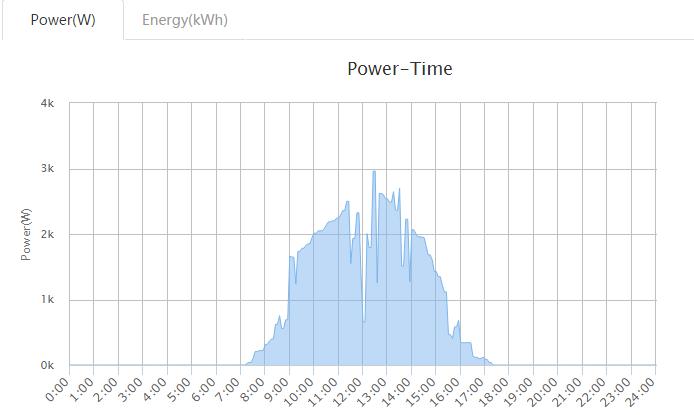 2. This is a chart of the the power produced by the same 3kW system for a few days since installation on May 3rd
3. The drop down list on the right shows some of the many options you can report on. Not just power produced, but voltages & current from the grid or solar panels, battery storage/use, panel temperatures and much more. The software can also easily be set up to send you reports automatically by email every day, week, month and also email you an alert if the inverter detects a problem.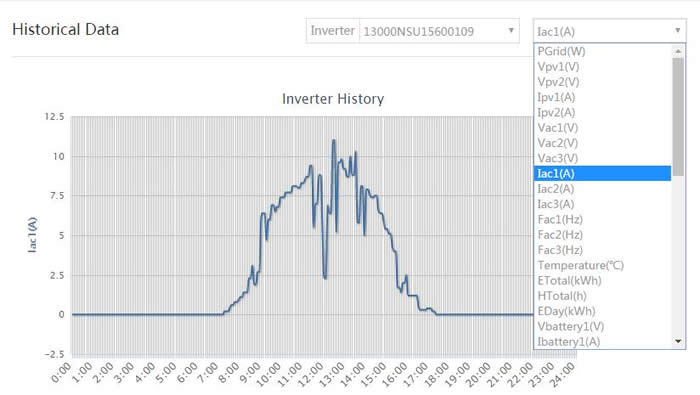 Goodwe software upgrade for AC grid voltage
Western Power are notorious for delivering very high AC voltages. There is a software tool available here to lift the voltage maximum on the inverter to 270V (the maximum allowed).
If this is not done, then if the voltage spikes about the default limit (262V) then the inverter will protect itself by shutting down until lower voltages are detected.
Click this link to download the zip file. It contains 4 files, including a PDF of the pretty simple to follow instructions. Extract the zip file so that you have a folder containing the Calibrate.exe file, Settings and English files as well as the instructions.