We've had consistently the lowest prices in Perth for 'good', 'better' and the 'absolute best' quality solar equipment, but if you get a lower quote in any category, we'll beat it.
Solar4Ever Panels and Inverters
Which is the best performing solar panel (in Perth)?
The right hand columns (Ranking/Gain) shows the ongoing results from a permanent test site in Bassendean, Perth, WA where all the panels below are installed and individually monitored with SolarEdge DC optimisers and a SolarEdge inverter.
or Call Suzanne on 043 007 6390
Brand

Description

Type

Financial Status


Ranking

Gain

Updated 09/12/14

Q.Cells

The best, European made, quite expensive

Poly

Tier 1

1st

+16.02%

ET

Consistently excellent, very good value

Tier 1

2nd

+14.67%

SolarOne

Same stable as Q.Cells but made in China

Tier 1

3rd

+14.22%

China's biggest panel manufacturer

Tier 1

4th

+13.04%

Schott

Best panel for oceanside installs(Salt Mist)

Tier 3

5th

+12.74%

REC

Singaporean made to Norwegian design

Tier 1

6th

+12.59%

5th largest Chinese manufacturer.

Tier 1

7th

+12.04%

GY Group

'Best of the Rest' tested. Good price too.

Tier 3

8th

+5.00%

The Rest

The most common panels sold in Oz

Mixed

Tier 1 to 3

9-19th
-7% to

+

2%

(av 0%)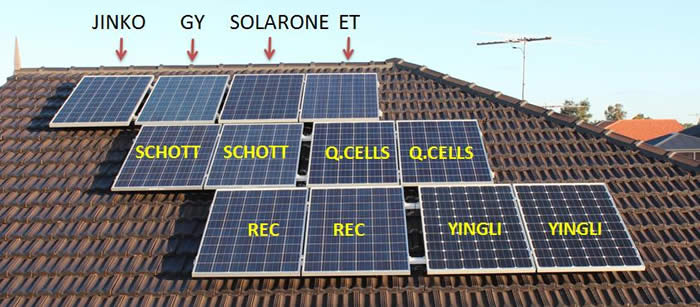 * Actual Performance Gain (as at 9th December 2014)
Note: "The Rest " refers to the average of the 11 other very popular and cheaper panel brands tested for two months prior to this final and permanent test. We took the best performer from that first test (GY) and stacked it up against the superstars of solar panels above. If you would like to see all the results in detail click here for instructions.
(We supply all of these panels and others not in our test like SolarWorld and Canadian Solar).
Q.CELLS are leading (as always) making over 16% more power than the average of 'The Rest'
ET are second and with the current big discount on ET, represent easily the best value at the moment.
SOLARONE, from the same 'Hanwha' stable as Q.CELLS, but made in China are third.

The only Mono in the test YINGLI comes in 4th

SCHOTT are just behind and the best 'oceanside' protected panel
Singaporean made REC come in 6th
JINKO are last of these Premium panels with 12% more power
GY was the best of the rest from our original test of 12 x Mid-range and Economy priced panels and made an average 5% more power. It is not a premium brand like the others in the test above and is a lower cost alternative that still makes significantly more power than the other 11 popular brands we tested it against.
Are cheaper panels worth it?
It's getting harder and harder to say "yes" to that because many of the premium brands are really cutting their prices so much. Whilst you can buy a bargain basement 5kW system with 'no-name panels for $5,000, it often only costs a few hundred dollars more to step up to top of the range panels and get about $300 a year more power. Only a year ago, all these elite panels would have cost at least an extra $2000 for a 5kW system.
What is 15% more power actually worth?
About $300 a year for a 5kW system
Inverter Summary
Inverters are the beating heart of every solar installation. Good solar panels rarely fail, but a cheap and nasty inverter will invariably cause you, and us, grief (which is why we don't sell them).
There is much more on inverters further down this page. Click the blue brand names in the table below to go to the manufacturer web site.

Brand
Description
Comments
SMA Sunnyboy

German made,World's no.1 brand. 5 year warranty. Expensive.

Should last 20 years +
SolarEdge
DC optimisers on every panel plus an inverter. Really expensive but totally brilliant. Safest system, best efficiency, best reporting.
Long term, nothing better, 25 year warranty on optimisers.
JFY
$1000 cheaper than an equivalent SMA (above), huge range, 10 years parts and labour warranty from Perth service centre, 98% efficiency and above average reliability make JFY a sensible choice.

Top seller 2012-2014

Fronius
Mainly for commercial, but excellent 5kW 3 phase residential
New range coming 2015
ABB/Power-One Aurora
Global giant ABB just bought the brand and renamed it and that is a great thing. The new range is excellent quality (our experience was that the old range was really horrible... despite the howls of indignation from their supporters).
European (Italy) made for less $$$ than SMA with ABB backing. Looking good for the future.
Sungrow
Huge at home (China) they are here and punching hard to win market share. 10 yr warranty. Hard to beat on price, good range and have been around for longer than almost any other Chinese inverter company.

Good bang for buck inverter.

10 year warranty.

Growatt
Great 3kW and below, much less reliable over 3kW . Lousy service to WA makes us feel second-class to Eastern States.
Used to love them. Now.... Pfffttt.
Delta
Corporate giant Delta, so called German 'design',but fully made in Thailand. Without the German tag no-one would buy them.
Doesn't handle Perth's variable voltage very well
Eaton
Huge company dabbling with a small end (2kW) inverter
Price is the only advantage
Enphase
Best Micro inverter system for Perth conditions
If you have shade problems
The Others
There are about 30 other Western Power approved inverter brands, some great but no longer made, others complete rubbish, but those listed above are the major brands sold these days.
Solar Questions? Click picture to email a question.
Have you watched our two minute videos? (Click the blue links below)
1. How Solar Works
2. Choosing a Solar Panel
Don't panic....it's a solar panel, not a space craft.
Solar panels are a very simple design, with no moving parts and the majority of brands are incredibly reliable..and they are fully covered by very long warranties....25 years is the typical warranty!!
If it seems too good to be true...
German made panels and inverters for less money than Chinese made?
To make it really simple here are the ONLY European made panels you can buy in Australia.
Q.Cells and SolarWorld.
Only German made Inverter?...SMA
That's it.
Here are some links.
Download ET panel specificaton sheet

Download GY Panel Specification Sheet
Download Schott Panel specifications / Download Schott '10 good reasons to buy Schott'
Download QCells specifications
Download Hanwha SolarOne Specifications
Download Suntech specifications


Inverters
Whilst panels are so simple with no moving parts and almost never fail, inverters by contrast are expensive and work hard all day long and are packed with electronic components and software.
There are four different types of inverter technology.
1. String Inverters
2. Hybrid string inverters with battery storage
3. Micro Inverters
4. DC optimers and associated inverters
1. String Inverters

The solar panels are connected in series in a 'string' of up to 15 panels.
Inverters are either 'single tracking or dual tracking' . A dual tracking inverter is needed for installations where panels are facing in different directions (e.g. North and West) unless the number of panels on each orientation is identical (e.g. 10 panels North and 10 panels West is fine on a single tracker but 11 and 9 is not).
Most solar installations use string inverters. As they work in series, when any panel in the string is shaded then the voltage and therefore performance of the whole string is reduced until the shade has gone.
SMA, JFY, Fronius, Delta, Growatt, and Suntellite (ZA) are popular brands of string inverters in Perth.
.
2. Hybrid String Inverters with Battery Storage
You can't just connect batteries to a regular inverter. We have written a whole web page on this subject. Click here.
3. Micro Inverters connected to every solar panel

It costs $100 extra per panel to have a micro inverter compared to most string inverters. The advantages of micros are fourfold compared to string inverters.
Each panel is a law unto itself so shading of one panel doesn't have any negative effect on an unshaded panel.
You can point the panels any which way you like too, North, West, East, it makes no difference.
The DC to AC conversion is done on the roof so the maximum voltage running through the solar conduit is 240V, not potentially 600V with a string inverter.
You don't need to find space for a large box to put on the wall.
Popular brands are Enphase (excellent for Perth heat), APS , Solarbridge and Aurora
We sell Enphase micros as well as the ET 250W with Solarbridge Pantheon II micro factory fitted.
Even better than a micro?...see next choice.
4 .DC Optimsers and associated inverter
Similar extra cost as micros, you get a 'micro' on each panel but you also get a central inverter that does the DC to AC conversion. Same advantages as micros for shade and roof orientations.
It's actually the safest (1 volt per panel open circuit), and most efficient solution with excellent WiFi and smartphone reporting and a 25 year warranty. SolarEdge have this section of the market won hook line and sinker. Want the best of the best? This is it.
Download SolarEdge product overview
Download SolarEdge reporting software overview
What you can fit on each of our most popular inverters
Each inverter has a maximum input voltage and current. In addition there is a 600 volt string voltage maximum allowed for safety reasons and a maximum allowed 'over-powering' of 33%. We have to bear all this in mind when we are selecting the most appropriate string inverter for your home.

JFY.
One of dozens of similar mid range well-priced Asian country manufactured inverters, there are a few very important reasons why we strongly favour JFY over the likes of Growatt, Samil, Renesola, Delta etc..
They have a huge range of single phase and three phase, single and dual tracking inverters so there is always a product to meet a specification.
They have an excellent WiFi option for seeing your solar stats on line or via a smart phone app ($120 with new inverter)
They have an absolutely fantastic warranty service. Better than ANY other inverter including the premium ones like SMA and SolarEdge. We drive to Canning Vale, pick up a brand new (not repaired) inverter, drive to your home, replace your faulty unit with the new one, and take the fault back to Canning Vale and collect $120 for our trouble. We normally have you back up and running in less than 48 hours, compared to three WEEKS with any other brand.
JFY have a failure rate of 1 in 100 over the first five years. (That's pretty typical for any inverter except SMA)
We buy the 10 year factory warranty extension for all our customers (unless you specifically ask us to take it off to save a few dollars), so you have nothing to worry about for at least 10 years.
97% efficiency rate is as good as SMA and any other inverter.
JFY had a horrendous intro to Australia in 2010 when they stuffed up on some firmware and inverters were dropping like flies, but they quickly fixed that and are now a very good, reliable brand who have 150,000 inverters installed across Australia and several million Worldwide.
SMA
The SMA Sunnyboy inverter range is by far and away the best known in Australia...when we first started in solar there weren't many other choices available. SMA have been making inverters in Germany since 1981 and they are without any doubt, the best quality string inverters bar none. Failure rate over the first five years is 1 in 400. Most inverters would (probably) struggle to give you more than 10-15 years of life, SMA are so well-made that 20 to 30 years is not out of the question. That's the good news, now the not so good.
Mainly because they are still made in Germany, they are expensive. You will pay about $1000 more for an SMA compared to almost everything else. Despite their fantastic reliability, they only give you a paltry 5 year warranty and you have to pay hundreds of dollars extra to extend it.
The inverter screen reports are excellent as is the free software you can run at home on a bluetooth enabled computer or tablet, but if you want WiFi to see your solar stats on the web or smartphone, it's another $350 or so. 97% efficiency rate. In the highly unlikely event you get a failure, be prepared for a couple of weeks at least whilst your inverter is repaired over East.
Fronius
Austrian made (that's the country next to Germany, not over here if you are speed reading).
It's a very good product, but some of their decisions at Fronius are downright odd.
Right now (mid 2014) they don't have a dual tracking single phase inverter and won't have until the Primo range appears sometime at the end of the year or early 2015.
In fact they don't have ANY single phase inverters larger than the new 3kW Galvo.
Why? Because they decided to withdraw the IG and IG Plus ranges before they had the new products.
(There is a little stock IG/IG Plus left, but we aren't prepared to make a sale without being sure the inverter will be available when we are ready for your installation).
However, they do have an excellent 5kW 3 phase, dual tracking inverter (Symo) that is reasonably well priced (lower than SMA, higher than JFY) which has a built-in DC isolator making the installation a bit cheaper.
96% efficiency. WiFi an extra $140.
Warranty is 5 year parts and labour + 5 years parts only. Your faulty unit is sent over East, repaired and sent back. Expect to be without solar for at least two weeks. After 5 years, you have to pay for the labour to have it repaired (e.g. our time collecting it, sending it off, and then putting it back...approx $150)
Growatt
Our relationship with Growatt has been a very long one, but let's just say we are drifting apart now..
The product is really excellent, especially for the smaller 2Kw and 3kW models. 5kW have proven less reliable,
98% efficiency rate is the best (by 1%) we have seen on a string inverter range.
The problem with Growatt these days is one of supply and support for WA. It's non existent any more. If we were based on the East Coast then we would still be selling Growatt on our smaller installations, but as we are in Perth, it's just too hard. Waiting weeks, if not months for both new product, and warranty repairs simply isn't good enough.
Delta
Delta Electronics is a very large Taiwanese company (most computer power supplies are made by Delta) that has opened businesses all over the World including a company called Delta Energy Systems based in Germany. The solar business of Delta is run from this German subsidiary which apparently gives them the right to call their products a German 'brand' even though the inverters are all made in Thailand. Hmmmm. Not really comfortable with that. (If, by the same token, WE set up a business in Germany and sold Chinese made panels from there would that make our panels a German brand?. No, we don't think so either).
Having said that, it's a solid product with a 10 year warranty and about half the price of the only genuine German made inverter (SMA). They have just added a dual tracking unit (not approved by Western Power yet). We've sold a LOT of Delta and apart from the German 'brand' issue, and an over-sensitivity to Perth's inconsistent AC voltage supply (don't install a Delta if your AC is well above the normal 240V), we have few complaints about this inverter range. Very nice WiFi option too.
Inverter Specifications (please let us know if any links fail for you as manufacturers often change the path)
Ablerex
Enersolis ES 3300
1 tracker, single phase

3.0 kW

N/A

Ablerex
Enersolis ES 5000
2 trackers, single phase

5.0 kW

N/A

Delta
Solivia 2.5 APG3
1 tracker, single phase
2.49 kW
Delta
Solivia 3.0 APG3
1 tracker, single phase
3.17 kW
Delta
Solivia 3.3 APG3
1 tracker, single phase
3.49 kW
Delta
Solivia 5.0 APG3
1 tracker, single phase
4.99 kW
Growatt
Sungold 1500
1 tracker, single phase
1.65 kW
Growatt
2500 HF
1 tracker, single phase
2.50 kW
Growatt
Sungold 3000
1 tracker, single phase
3.00 kW
Growatt
Sungold 5000
1 tracker, single phase
5.00 kW
Growatt
3600MTL

2

trackers, single phase
3.60 kW
Growatt
4200MTL

2

trackers, single phase
4.20 kW
Growatt
5000MTL

2

trackers, single phase
5.00 kW
JFY
JSI-2500TL
1 tracker, single phase
2.49 kW
JFY
JSI-3000TL
1 tracker, single phase
3.40 kW
JFY
JSI-5000TL
1 tracker, single phase
5.00 kW
JFY
SUNTWINS 3300TL

2

trackers, single phase
3.30 kW
JFY
SUNTWINS 4000TL

2

trackers, single phase
4.00 kW
JFY
SUNTWINS 5000TL

2

trackers, single phase
5.00 kW
JFY
SUNTREE 5000TL

2

trackers,

Three

phase
5.00 kW
JFY
SUNTREE 10000TL

2

trackers,

Three

phase
10.0 kW
SMA
Sunny Boy 2500TL
1 tracker, single phase
2.5kW
SMA
Sunny Boy 3000TL
1 tracker, single phase
3.0 kW
SMA
SB3000TL-21

2

trackers, single phase
3.0kW
SMA
SB4000TL-21

2

trackers, single phase
4.0kW
SMA
SB5000TL-21

2

trackers, single phase
5.0kW
SMA
TriPower 5000TL

2

trackers,

Three

phase
5.0kW
SMA
TriPower 15000TL

2

trackers,

Three

phase
15kW