Solar Panels and Inverters
Best solar panels? We put them to the test.
Brand

Description

Type

Financial Status


Ranking

Gain

Updated 14/01/15

Q.Cells

The best, European made, quite expensive

Poly

Tier 1

1st

+15.78%

ET

Consistently excellent, very good value

Tier 1

2nd

+14.84%

SolarOne

Same stable as Q.Cells but made in China

Tier 1

3rd

+13.96%

China's biggest panel manufacturer

Tier 1

4th

+12.95%

Schott

Best panel for oceanside installs(Salt Mist)

Tier 3

5th

+12.71%

REC

Singaporean made to Norwegian design

Tier 1

6th

+12.52%

5th largest Chinese manufacturer.

Tier 1

7th

+11.46%

GY Group

'Best of the Rest' tested. Good price too.

Tier 3

8th

+5.00%

The Rest

The most common panels sold in Oz

Mixed

Tier 1 to 3

9-19th
-7% to

+

2%

(av 0%)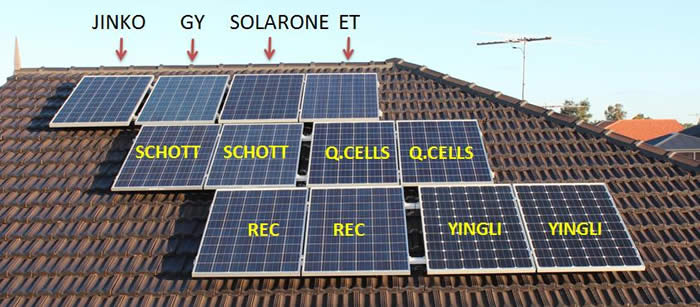 * Actual Performance Gain (as at 14th January 2015)
Note: "The Rest " refers to the average of the 11 other very popular and cheaper panel brands tested for two months prior to this final and permanent test. We took the best performer from that first test (GY) and stacked it up against the superstars of solar panels above. If you would like to see all the results in detail click here for instructions. (We supply all of these panels and others not in our test like SolarWorld and Canadian Solar).
Q.CELLS are leading (as always) making 15.78% more power than the average of 'The Rest'
Love them. Zero faults EVER, either German made, (or Poland made and then quality checked in Germany.)
ET are second and with the current big discount on ET, represent easily the best value at the moment.
100% guarantee that you will get a genuine ET made panel from us. No sub-contracted manufacturing
SOLARONE, from the same 'Hanwha' stable as Q.CELLS, but made in China are third.

The only Mono in the test YINGLI comes in 4th

SCHOTT German engineered, but Chinese made these days are just behind and the best 'oceanside' protected panel (Salt Mist protection level 6).
Singaporean made REC come in 6th.
JINKO are last of these Premium panels with 11.46% more power
GY was the best of the rest from our original test of 12 x Mid-range and Economy priced panels and made an average 5% more power. It is not a premium brand like the others in the test above and is a lower cost alternative that still makes significantly more power than the other 11 popular brands we tested it against.
Are cheaper panels worth it?
All panels are cheap these day, even the top panels. The cheapest of the cheapest are only $40 per panel
less than the top Tier 1 panels above. That $800 saving for a 5kW system is soon eaten up by the 15-20%
loss in power (approx $300-$400 a year).
Inverter Summary
5kW inverter price matrix guide (Accurate as at 23/01/2015)
| | | | | |
| --- | --- | --- | --- | --- |
| | | | | |
| SMA | 5kW | Single | $1975 | 5 years |
| Sungrow | 5kW | Single | $1100 | 10 years |
| JFY | 5kW | Single | $1065 | 10 years |
| Zeversolar | 5kW | Single | $995 | 5 years |
| Fronius | 5kW | Single | N/A | N/A |
| ABB Power-One | 5kW | Single | N/A | N/A |
| Enphase Micros | 5kW | Single | $3900 | 10 years |
| SolarEdge Micros | 5kW | Single | $3900 | 25 years |
| SMA | 5kW | | $2110 | 5 years |
| Fronius | 5kW | | $2100 | 5 years + 5 years parts only |
| JFY | 5kW | | $1850 | 10 years |
| Zeversolar | 5kW | Three | $1390 | 5 years |
SMA
German made and the best string inverter for reliability, on screen stats and World No.1.
5 year standard warranty (they can only get away with this weak warranty because they are No.1)
It's a rare thing to find in ANY product where the World No.1 top seller is also the most expensive.
Somewhat unexpectedly, SMA own one of the cheapest brands on the market too (Zeversolar).
Sungrow
Recently became World No.2 top seller leap- frogging ABB. All the things you would expect from the
pretender to the throne. Cheaper, better warranty (10 years), years of experience and currently giving
free Wi-Fi (worth $300) and based on years of European statistics, equally good reliability and performance
(DC to AC conversion %) as the World No.1, SMA.
JFY
Excellent product range and even better service. No wonder they have sold nearly 200,000 inverters
in Australia since 2010. We always buy the full 10 years parts and labour warranty for added peace
of mind. It's very rare, but If things do go wrong, they have their service centre here in Perth so
we get a replacement straight away AND they pay us $150 to change out the faulty unit. Excellent.
Ignore the sales reps on Whirlpool who HATE this brand for no other reason than it has been so
successful, they are, after all, trying to sell one you one of the other brands we list here, but just playing
dirty.
ABB PowerOne
Used to be branded Aurora, but recently bought by global giant ABB. Italian made.
Nice product but nothing special these days. Range of products not always a good fit for WA.
(e.g. a 6kW 3 phase inverter, not a 5kW means it is excluded from selling surplus power back to grid).
Hopefully new owner will introduce some sparkle to make this once great brand shine again.
Fronius
Good quality inverters from Austrian manufacturer.
Right now the only Fronius we can recommend is the 3 phase, 5kW dual tracking SYMO
This includes WiFi and is a mighty fine inverter.
In May/June 2015 the new PRIMO range is expected to become available. 3kW up to 8kW, single
phase, dual-tracking with WiFi. PRIMO will be replacing the Galvo, IG and IG Plus ranges and not
before time. Warranty is currently 5 years full parts and labour, then another 5 years parts only.
Zeversolar
What makes this Chinese made brand really interesting is who owns them...German giant SMA !!
Cheapest 5kW 3 phase inverter on the market by about $500 and they even have a 4kW 3 phase model
as well. Reasonable range of single phase inverters at rock bottom prices. Australian support centre.
5 year warranty, and Wi-Fi option.
Delta
Do not handle Perth's variable AC power grid well. Far the highest failure rate of any inverter we have
installed. Made in Thailand by a Taiwanese company that claims the inverters are designed and
engineered in Germany. If they are saying this as sort of claim to being great German quality, we would
seriously have to disagree. 10 year warranty is good and sadly, probably necessary
Growatt
Indestructible 3kW and smaller inverters, not so good any larger than that. (Like Delta, they don't handle
funky Perth AC voltages all that well on the larger models, but the smaller ones are brilliant).
Very disappointing warranty service. Often takes several weeks (they seldom have any stock).
Enphase
Best of the traditional micro inverters if you have shading problems or lose sleep worrying about
high DC voltages running thorugh conduit in your roof during the day.
SolarEdge
What you should really buy if you want max power, safety and flexibilty from your solar. Micros on
steroids. Why is this at the bottom of the list, when it's the best? In the USA they are the No.2 inverter
brand but here in Oz, they are nowhere. No idea why, speaking as techs and sparkies, it's the best, and
safest of them all but of course, it's expensive (about the same as Enphase or SMA with a similar 25 year
warranty).
The Others
Not above? Hmmm. We get offers daily from all of them but why would you save $50 and buy an unknown?
What do we recommend?
If you are staying in your home forever and can afford to buy the best long-term solution and a couple of
thousand dollars extra now doesn't freak you out because you understand that you'll get it back over time with
interest...then without question...SolarEdge.
If you are like most of us looking for maximum bang for buck (that includes warranty, performance, reliability etc) then Sungrow or JFY. If you want an inverter that the techs love because they are cool, then Fronius. If you want to buy IBM (old computer analogy for those old enough to understand it)...SMA.
Have you watched our two minute videos? (Click the blue links below)
1. How Solar Works
2. Choosing a Solar Panel
Inverter Technology
Whilst panels are so simple with no moving parts and almost never fail, inverters by contrast are expensive and work hard all day long and are packed with electronic components and software.
There are four different types of inverter technology.
1. String Inverters
2. Hybrid string inverters with battery storage
3. Micro Inverters
4. DC optimers and associated inverters
1. String Inverters

The solar panels are connected in series in a 'string' of up to 15 panels.
Inverters are either 'single tracking or dual tracking' . A dual tracking inverter is needed for installations where panels are facing in different directions (e.g. North and West) unless the number of panels on each orientation is identical (e.g. 10 panels North and 10 panels West is fine on a single tracker but 11 and 9 is not).
Most solar installations use string inverters. As they work in series, when any panel in the string is shaded then the voltage and therefore performance of the whole string is reduced until the shade has gone.
(see below for effect of shade)
.
2. Hybrid String Inverters with Battery Storage
You can't just connect batteries to a regular inverter. We have written a whole web page on this subject. Click here.
3. Micro Inverters connected to every solar panel

It costs about $100 extra per panel to have a micro inverter compared to most string inverters. The advantages of micros are fourfold compared to string inverters.
Each panel is a law unto itself so shading of one panel doesn't have any negative effect on an unshaded panel.
You can point the panels any which way you like too, North, West, East, it makes no difference.
The DC to AC conversion is done on the roof so the maximum voltage running through the solar conduit is 240V, not potentially 600V with a string inverter.
You don't need to find space for a large box to put on the wall.
Popular brands are Enphase (excellent for Perth heat), APS , Solarbridge and Aurora
We sell Enphase micros as well as the ET 250W with Solarbridge Pantheon II micro factory fitted.
Even better than a micro?...see next choice.
4 .DC Optimsers and associated inverter
Similar extra cost as micros, you get a 'micro' on each panel but you also get a central inverter that does the DC to AC conversion. Same advantages as micros for shade and roof orientations.
It's actually the safest (1 volt per panel open circuit), and most efficient solution with excellent WiFi and smartphone reporting and a 25 year warranty. SolarEdge have this section of the market won hook line and sinker. Want the best of the best? This is it.
Download SolarEdge product overview
Download SolarEdge reporting software overview