Goodwe Inverters
Goodwe inverters caught the attention of most solar companies in Australia
when German Photon magazine awarded them a AA rating in their strict testing,
and ranked them 2nd in the residential inverter classification and Top 5 in commercial.
Even the solar trolls on Whirlpool who relentlessly mock anything Chinese found it hard
to say anything bad about this brand. It's very well made, with none of the cheap
components found in the majority of Chinese made inverters.
What is also particularly impressive about Goodwe is their range of Hybrid and AC coupled inverters and their remarkable DC coupled DC converter that can connect to ANY solar inverter, new or old and connect battery storage.
The most popular Goodwe inverters we sell are the 3kW and 5kW single phase models.
The three phase Goodwe 5kW product is excellent too but being so close in price ($457) to
the Fronius Symo which has a 10 year warranty against the Goodwe standard 5 years, we tend to promote Fronius instead for 3 phase unless the budget is really tight.
All of the Goodwe inverters come with WIFI as standard and your solar data is uploaded to the Goodwe monitoring portal every few minutes. You can view it via a smartphone app or on a web browser. The data is very detailed, and when you connect batteries, it shows the charge/discharge rate and capacity of your batteries storage as well.
Michael and his colleagues from the Australian office of Goodwe (03 9324 0559) provide a fast and fantastic service to re-sellers like us and end users, like yourself. We had an instance not long ago where a new Goodwe customer of ours noticed from the Goodwe monitoring portal that when his production got to just under 5kW, it was being clipped and would go no further. The voltage from Western Power was quite high (~253V) and this was causing the Goodwe to ramp output down. Michael from Goodwe remotely connected to the customer's Goodwe inverter and within a few minutes had raised the threshold in the inverter and the customer immediately noticed the difference.
The 5kVA single phase DN-S, dual tracking Goodwe inverter is priced at $1198 with the optional DC coupled battery interface (2500-BP which includes the Goodwe smart meter) costing a further $1400. Then just add batteries whenever you want. That price is $858 less than Fronius Primo and represents exceptional value for such a reliable and well featured inverter. If you want Goodwe to match the Fronius 10 year warranty, it will cost you a further $265. The smaller 3kVA version, also dual tracking, is $1088 against Fronius $1686 and again the $1400 battery interface and meter (2500-BP) can be added when you want storage.
In addition to the Goodwe BP2500 battery interface that converts any solar installation, new or old, for any brand of inverter except Enphase micros (who have their batteries), Goodwe also have a 3kVA and 5kVA hybrid inverter. This doesn't need the BP2500 battery interface because it has its own, and battery management hardware and software already built-in. At the moment the Hybrid is single phase only. It costs $2188 for the 5kVA version and that price includes the smart meter to measure your household power use. The 3kVA Goodwe hybrid is $1800.
And if all of these amazing products weren't enough, Goodwe have even released a 3.6kVA and a 5kVA AC coupled inverter that allows you to connect battery storage to your home that connects straight into your switchboard and couldn't care less what solar panels and inverter you have because it doesn't go near them. After the existing solar inverter has done its job of converting panel power to AC power and sends that AC down the wires to the switchboard, the Goodwe product intercepts it, and decides whether it will send it on to your house or store in batteries. When the solar has shut down it intercepts any demand your house has for power and provides it from the batteries, and when there isn't enough power left in the batteries, it lets the power from the grid come through. Some might call it white man's magic, but in reality it is all achieved by a clamp (or clamps because it works on 3 phase as well) around your cables and some clever software.
There really isn't any brand quite like Goodwe with such an excellent and diverse range of options to allow people to connect batteries now or later, to their solar installation. Backed up by very solid support from their Australian team (as mentioned above), and in our experience so far, remarkably good reliability, it's a very highly recommended brand, at a very fair price.
Datasheets
Note:
MPPT indicates how many roof orientations can be supported for panel installation
Single means one only, e.g. only on North, or only on East etc
Two MPPT means panels can be installed on for instance, North AND West
Goodwe product ranges (Australia)
Click the blue links to view the brochure/datasheet for each range.
NS range - All are single phase, single MPPT
GW1500-NS - 1.5kW AC output, 1.95kW max solar panel power
GW2000-NS - 2kW AC output, 2.6kW max solar panel power
GW2500-NS - 2.5kW AC output, 3.3kW max solar panel power
GW3000-NS - 3kW AC output, 3.9kW max solar panel power
DNS Range - All are single phase, Two MPPT
GW3000D-NS - 3kW AC output, 3.9kW max solar panel power
GW3600D-NS - 3.68kW AC output, 4.9kW max solar panel power
GW4200D-NS - 4.2kW AC output, 5.5kW max solar panel power
GW5000D-NS - 4.95kW AC output, 6.6kW max solar panel power
LDT Range - 3 phase, Two MPPT
GW4000L-DT - 4kW AC output, 5.33kW max solar panel power
GW5000L-DT - 5kW AC output, 6.66kW max solar panel power
GW6000L-DT - 6kW AC output, 8kW max solar panel power

GW10K-DT - 10kW AC output, 13.3kW max solar panel power
GW25K-DT - 25kW AC output, 33.3kW max solar panel power

Goodwe Hybrid inverters works with DC coupled batteries, single phase, two MPPT

GW5048D-ES - 5kW AC output, 6.6kW max solar panel power
GW5048D-EM - 5kW AC output, 6.6kW max solar panel power
(The EM is cheaper and newer but has a slightly lower battery charge discharge rate)
Goodwe retro fit DC coupled battery storage system
GW 2500-BP Connect up to 10Kwh of battery storage. See below for full description
If you already have solar and want batteries, you can retro fit the clever GW2500-BP interface and smart meter.
Goodwe Inverter warranties
The standard warranty for all Goodwe inverters is 5 years
Extended warranties to 10 years can be purchased as shown below
(most popular models shown, others on request)
GW2500-NS $210
GW3000-NS $210
GW5000-NS $260
GW5000D-NS $265
GW5000L-DT $250
GW10K-DT $275
Goodwe WiFi
The level of data available on the free WiFi feature of Goodwe inverters is excellent. You can view the data on a web browser or via their SmartPhone App (EziViewer). Here are some screen shots of some of what you get. (You get a lot more information if you have batteries connected).
1. This is a chart of the power produced over the day by a 3kW system in Perth on a mostly sunny day in May (see how it drops off at 12.30pm when some clouds came over).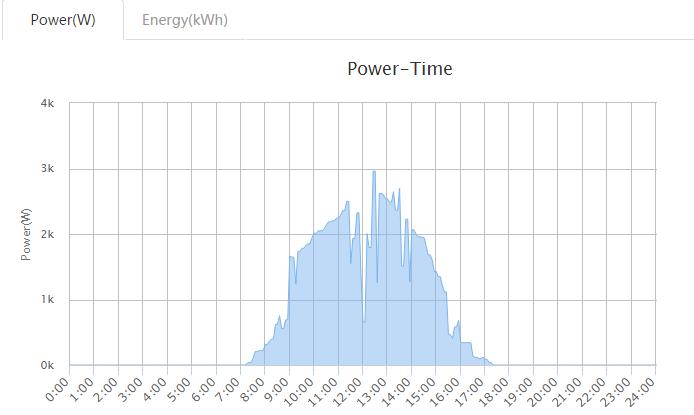 2. This is a chart of the the power produced by the same 3kW system for a few days since installation on May 3rd
3. The drop down list on the right shows some of the many options you can report on. Not just power produced, but voltages & current from the grid or solar panels, battery storage/use, panel temperatures and much more. The software can also easily be set up to send you reports automatically by email every day, week, month and also email you an alert if the inverter detects a problem.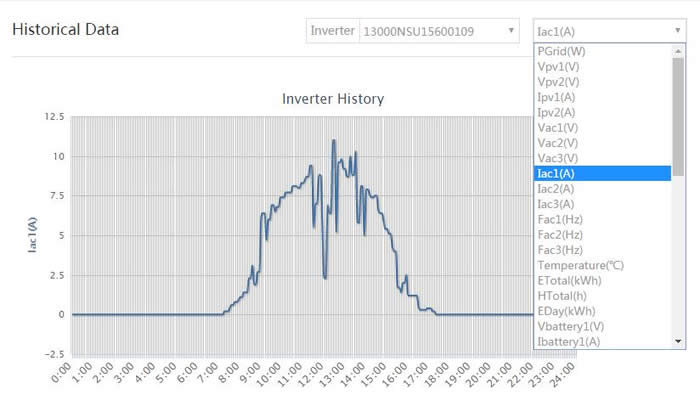 Goodwe software upgrade for AC grid voltage
Western Power are notorious for delivering very high AC voltages. There is a software tool available here to lift the voltage maximum on the inverter to 270V (the maximum allowed).
If this is not done, then if the voltage spikes about the default limit (262V) then the inverter will protect itself by shutting down until lower voltages are detected.
Click this link to download the zip file. It contains 4 files, including a PDF of the pretty simple to follow instructions. Extract the zip file so that you have a folder containjng the Calibrate.exe file, Settings and English files as well as the instructions.